Boykott der Großkonzerne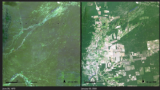 Argentinien
Die großen Konzerne, dieser Welt, arbeiten schon lange nicht mehr im Sinne der Menschen (TTIP & CETA). Profit und Gier ist ihre einzige Triebfeder, um sich in der oberen Gesellschaft zu halten. Die Trennung von arm zu reich ist größer denn je, und der Schaden der einhergeht ist ebenso fatal. Alleine kann ich diese Machenschaften nicht bezwingen, jedoch in der Masse von bewussten Menschen kann "man" großes schaffen!
In den folgenden Listen geht es um Produkte die, aus gesundheitlichen und menschlichen Gründen, nicht mehr gekauft werden sollten! Maßgeblich sind Produkte in Verbindung zu "Monsanto" und deren GMO (Gen-Modifizierte-Organismen) im Vordergrund, denn Genmanipulation der Natur ist ein absolutes NO GO für Mensch und Umwelt!
Anbei ein nettes Video über Monsanto und Ihre Machenschaften (Link hier)
Hier die Liste von Firmen die, in allen Produkten, genmanipuliertes Material von Monsanto verwenden. Zusätzlich kommt noch hinzu, dass extrem viele Produkte mit "Füllmaterial" wie Microplastik (geht durch die Haut), Aspartam (schweres Gift als Süßstoff deklariert), usw. usf. versetzt sind.
- Film ohne Worte (7min.) (Link hier)
UNILEVER
Rama
Bifi
LÄTTA
Cornetto
Domestos
Knorr Produkte
Solero
Cremissimo
Magnung
Axe
Dove
Bertolli
Pfanni Produkte
Rexona
Langnese
Dondamin
Du Darfst
Sanella
Duschdas
Signal
Mazola
Becel
Coral
Vienetta
Impulse
Lux
NESTLE
After Eight
Alete
Bärenmarke
BEBA
Bübchen
Buitonie
Butterfinger
Caro
Choco Crossies
Fundus
Frisco
Häagen-Dazs
Herta
Kitkat
Leisi
Lion
Maggi Produkte
Möwenpick
Nescafe
Nespresso Produkte
Nesquick
Purina Edel-Katzenfutter
Nestle-Schöller
Nuts
Rolo
San Pelegrino
Sanbitter
Smarties
Thomy
Vittel
Wagner Produkte
Pur Life
MONDELEZ
Jacobs Kaffee
Kaffee Hag
Maxwell House
Tassimo
Onko
Kaba
Kool-Aid
Suchard-Express
Miracel Whip
Vegemite
Milka
Toblerone
Mozartkugel
Daim
Philadelphia Streichkäse
Capri Sonne
PROCTOR & GAMBLE
Braun Gillette
Head & Choulders
Herbal Essences
Maxfactor
Olaz
Old Spice
Pantene
Schockwave Kaugummi
Wella
Blend-a-dent
Blend-a-med
Clearblue
Metamucil
Oral-B
Persona
Wick
Ace
Ambipur Raumdurft
Antikal
Ariel
Dash
Duracell
Fairy
Febreze Raumdurft
Lenor
Meister Proper
Swiffer
Eukanuba
Iams
COCA-COLA
Fanta
Sprite
Mezzo Mix
Lift
Nestea
Bon Aqua
Apolinaris
Powerade
VERSCHIEDENE
Müller Milch
Weihenstephan
Loose
Restaurantkette
Nordsee (zu 80%)
Pepsi
Sweppes
Heinz Ketchup
Kelloggs
Lipton
Pringels
Uncle Bens
Mars
Konzerne, welche nur die Eigeninteressen wahren, und den Mensch als Sklaven behandeln:
Apple Produkte (Billigproduktion in Indien und Asien)
Primark (Kinderarbeit im schlimmsten Ausmaß)
OPEC (Ölkonzerne beuten, ohne Konsequenzen, andere Nationen aus)
Zahnpasten (egal welches Produkt, sie sind höchst schädlich wegen Flour, Microplastik, Aspartam, usw. ..... Alternative ist AJONA)
Pharmazie (Bayer & Co. machen euch nur Drogenabhängig und die Produkte sind großteils Plazebo)
Hofer/ Aldi, Lidl, Merkur und Co. haben die Bäckereien getötet, und ihre "Teiglinge" (inkl. E-Nummern, Geschmacksverstärkern, Schimmelstoppern (wie in Wandfarbe) und sagenhafte 15 Inhaltsstoffe, die nicht genannt werden müssen, wenn diese nicht eine Mindestgrenze überschreiten), werden massenhaft unter der Bevölkerung verteilt.
Massentierhaltung NEIN Danke (gehen Sie zum Klein-Metzger und haben was vom Fleisch) 
Konzerne, welche nach wie vor Tierversuche machen, obwohl es viele Alternativen gibt. Täglich sterben über 1,2 Millionen Versuchstiere!!!
Alberto Culver Co.
Alberto V05
Baker's Joy
Consort
FDS
Just for Men
Mrs. Dash
Nexxus
Noxzema
Soft & Beautiful
Static Gaurd
St.Ives
Sugar Twin
TRESemmé
Bausch + Lomb
Bic Corporation
Blue Buffalo
Bristol-Myers Squibb Co.
4-Way
Alpha Keri
Ammens
Aussie
Ban
Bufferin
Clairol
Comtrex
Coumadin
DuPont Pharmaceutical
Elisor
Excedrin
Final Net
Fisherman's Friend
Fostex
Glucophage
Keri
Redmond
Church & Dwight
Aim
Answer
Arm & Hammer
Arrid
Brillo
Cameo
Carter's Laxative
Close-Up
Enamelon
First Response
Kaboom
Lady's Choice
Lambert Kay
Mentadent
Nair
Naturalamb Condoms
Orange Glo
Oxy Clean
Parson's
Pearl Drops
Pepsodent
Rigident
Scrub Free
Snobol
Trojan Condoms
The Clorox Company
409
Armor All
Ayudin
Bluebell
Brita
Burt's Bees
Chux
Clorox
Ever Clean
Formula 409
Fresh Step
Glad
Green Works
Javex
K C Masterpiece
Kingsford
Lestoil
Liquid-Plumr
Mistolin
Oxi Magic
Pine-Sol
Poett
ProResults
Soft Scrub
S.O.S
Tilex
Colgate-Palmolive
Afta
Ajax
Cashmere
Colgate
Dermassage
Fabuloso
Hill's
Irish Spring
Lady Speed Stick
Murphy Oil Soap
Palmolive
Skin Bracer
Softsoap
Speed Stick
Suavitel
Teen Spirit
Tom's Of Maine
Ultrabrite
GlaxoSmithKline
Alli
Aquafresh
Breathe Right
Contac
Commit
Corega
Dolex
NicoDerm
NiQuitin
Panadol
Polident
Poligrip
Sensodyne
Tums
Henkel
Antica Erboristeria
Aok
Bac
Bref
Ceresit
Citre Shine
Coast
Dep
Diadermine
Dial
Dry Idea
Fa
Got2b
L.A. Looks
Loctite
Mir
Mont Saint Michel
Natural & Easy
Neutromed
Persil
Perwoll
Poly Swing
Pur
Purex
Renuzit
RIGHT GUARD
Schwarzkopf
Seborin
Smooth 'N Shine
Soft & Dri
Soft Scrub
Solvite
Somat
Spee
Theramed
Thicker Fuller Hair
Tone
UniBond
Vernel
Zero Frizz
Johnson & Johnson
Acuvue
Ambi
Aveeno
Band-Aid
Bebe
Benadryl
Benecol
Bengay
Caladryl
Carefree
Clean & Clear
Desitin
Dolormin
Imodium
Johnson's
K-Y
Lactaid
Listerine
Lubriderm
Monistat
Motrin
Mylanta
Natusan
Neosporin
Neutrogena
Nicorette
O.B.
Penaten
Pepcid
Piz Buin
Prim'age
Purell
Purpose
Reach
Rembrandt
Roc
Rogaine
Rolaids
Shower to Shower
skin ID
Splenda
Stayfree
Sudafed
Tucks
Tylenol
Vendome
Viactiv
Visine
Zyrtec
Kimberly Clark Corporation
Andrex
Cottonelle
Depend
DryNites
GoodNights
Hakle
Huggies
Intimus Gel
Jackson
Kimberly Clark Professional
Kimcare
Kimtech
Kleenex
Kleenguard
Kotex
Little Swimmers
Neve
Pe
Pingos
Poise
Pull-Ups
Scott Paper
Talo
Viva
Wondersoft
Wypall
L'Oreal
Biotherm
The Body Shop
Cacharel
DIESEL
Garnier Fructis
Giorgio Armani
Inneov
Keratase
Kiehl's
La Roche – Posay
Lancome
L'Oreal
Matrix
Maybelline
Pureology
Ralph Lauren Fragrances
Redken
Shu Uemura
SkinCeuticals
Soft Sheen
Urban Decay
Vichy
Viktor & Rolf
Yves Saint Laurent
Mars
3 Musketeers
5 (gum)
Altoids
Cirkuhealth
Dove / Galaxy (Candy)
Eclipse
Extra
Flavia
Freedent
Life Savers
M&M's
Mars
Milky Way
Orbit
Pedigree
Royal Canin
Sheba
Skittles
Snickers
Starburst
Twix
Uncle Ben's
Whiskas
Wrigley's (Spearmint, Double Mint, Big Red, Juicy Fruit, Winterfresh, Big League Chew, Bubble Tape, Hubba Bubba)
Mead
Melaleuca
Merck
Bain de Soleil
Coppertone
Schering-Plough
New Dana Perfumes Company
Ambush
British Sterling
California
Canoe
Chantilly
Fetish
English Leather
Heaven Sent
Herbissimo
Lutece
Navy
Secrets
White Chantilly
Pfizer
Procter & Gamble
Ace
Alomatik
Always
Anan Sui
Ariel
Aussie
Bold
Bonux
Bounce
Bounty
Braun
Bruno Banani Fragrances
Camay
Cascade
Charmin
Cheer
Christina Aguilera Perfumes
Clairol Professional
Comet
CoverGirl
Crest
Dash
Dawn
Daz
DDF
Dodot
Dolce & Gabbana
Downy
Dreft Dish
Dreft Laundry
Dunhill Fragrances
Duracell
Ellen Betrix
Era
Escada Fragrances
Eukanuba
Fab
Fairy
Febreze
Fekkai
Fusion
Gain
Gala
Ghost
Gillette
Gucci Fragrances
Head & Shoulders
Herbal Essences
HUGO BOSS Fragrances
Iams
Ivory
Joy
Lacoste Fragrances
Lenor
Londa Professional
Luvs
Mach3
Max Factor
Mexx
Mr. Clean
Mr. Proper
Myth Laundry
Naomi Campbell
Natural Instincts
Nice 'n Easy
Nioxin
Olay
Old Spice
Oral-B
Pampers
Pantene
Pert
Prestobarba/Blue
Prilosec OTC
Pringles
Puffs
Puma
Rejoice
Rindex
Rochas
Safeguard
Salvo
Sarasa Laundry
Sebastian Professional
Secret
SK-II
Swiffer
Tampax
Tempo
Tide
Venus
Viakal
Vicks
Vidal Sassoon
Vizir
Wella
Whisper
Zest
Reckitt Benckiser
Air Wick
Amphyl
Beacon
Brasso
Calgon
Cattlemen's
Cillit Bang
Clean & Smooth
Clearasil
Cling Free
Dettol
Delsym
Dip It
Durex
Easy Off
Finish
French's
Harpic
Lysol
Nurofen
Nuromol
Old English
Resolve
Rid-X
Scholl
Spray 'N Wash
Strepsils
Veet
Woolite
S.C. Johnson
ALL OUT
Autan
Baygon
Drano
Duck
fantastik
Glade
Grand Prix
Mr. Muscle
Nature's Source
OFF!
Oust
Pledge
Raid
Saran
Scrubbing Bubbles
Shout
Windex
Ziploc
Shiseido Cosmetics
Unilever
Axe
Ben & Jerry's
Bertolli
Blue Band
Caress
Cheesebrough Ponds
Cif
Close Up
Comfort
Country Crock
Degree
Domestos
Dove
Heartbrand (Good Humor)
Hellmann's
I Can't Believe It's Not Butter!
Klondike
Knorr
Lever Brothers
Lifebuoy
Lipton
Lux
Omo
Pond's
Popsicle
Q-Tips
Radiant
Ragu
Rexona
Signal
Skippy
Slim-Fast
Suave
Sunlight
Sunsilk
Surf
TIGI
TRESemme
Vaseline
VO5
Wish-Bone
.
.
.
.